Starting with my current location feel free to take a lil scroll & see all my stops along the way.
With many more to come x
From Palm Beach to Manly its my favourite stop in Australia yet. Which is why we our extending the "Stop".
We will be leaving our house sitting adventures behind in 2018.
Its been a long 9 months of moving & saving but its now time for a change.
WELCOME TO THE NEW CHAPTER WHERE WE WILL BE RENTING OUR VERY OWN HOME
This was our first actual home here in Australia.
In the Northern Beaches.
The first house we settled in after 7 months of constant moving from one house sitting job to another. (Saving that dolla). With the odd nights in between spent in many different shared Airbnbs or a dark (but spacious) garage that we rented out here & there on the cheap. We shared this house with 2 others for 6 weeks. (Which doesn't sound like a long time…. probably because it isn't in terms of living somewhere, but for us, after living in other peoples homes/bedrooms & moving pretty much every 2 weeks….
It was our first home in Australia.
So after this brief stint in the paradise, we had to move on to yet another previously booked in house sit. & with that it was time to pack up everything we owned once again & stuff it back into our long suffering car.
However after this small taste of life in our own space & out of our own cupboards… rather than out of our suitcases, we decided the time had come for our house sitting journey to END.
Our last house sitting job was also in the lovely Northern beaches area & by this time we had decided this was the place for us.
Having decided upon our location we began the hunt for the CASA.
Cronulla has a bad reputation.
& from what I have heard that comes with good reason. I do not know enough to say for sure whether it still deserves its bad name or not, but it is certainly a beautiful little surf town/suburb south of Sydney's city.
We stayed in a house on Burraneer Bay. Beatuiful whatever the weather & only a short drive from Cronulla's beach, shops, restaurants etc...
This was the luxury house sit we have returned to on numerous occasions. So we may have been kind of spoilt in our experiences of Cronulla.
Welcome to the Paris of Australia…
If you are thinking of visiting Sydney there are many other areas to see here rather than just Bondi & the CBD.
Our house sitting has allowed us to move around the many different areas in Sydney.
Don't worry I will guide you through, with a little bit on all our experiences as well as all the different places.
This residential, suburban & somewhat secluded corner of the city is very much a big rich town. Along with Rose Bay, Vaucluse consists of the grandest houses around, all belonging to the wealthiest Sydney has to offer. It is also home to some of Sydney's most beautiful beaches.
You do not have to live in the Beverly Hills of Australia to enjoy it's beaches!
BALMAIN
Palms, the sea & the city village.
At the end of September we yet again packed up everything we owned into our car & moved across the city to the suburb of Balmain, where we lived for 3 & 1/2 weeks (our longest house sits yet). This little location is the perfect spot in Sydney's central.
Filled with little terrace houses & plenty of cafes it is right by the water & the city. Our house came rent free with an absolute beauty of a Husky & a view of the harbour bridge from our balcony.
Although very yoga & brunch it doesn't come across in a pretentious annoying way, instead the vibe in Balmain is just very layed back. With everything you need close around you, there is no need for stress. The only thing missing is a train station but this is not a real issue as they ferry port can get you direct to the CBD in just a few minutes & all bus routes will take you to the main city links.
This was one of our favourite house sitting jobs, it had everything we needed & we had enough time here to settle in a bit & enjoy ourselves.
HOUSE SITTING TOP TIP
If you are thinking of giving house sitting a go while travelling or (like us) when you have newly moved somewhere & want to avoid renting. I would recommend only accepting long length stays. It will make your life much less stressful, especially if you are also working.
Not having a base can be difficult. The less moving the better & the less stuff you have to move the easier your life will be.
So pack light kids.
ANOTHER HOUSE SITTING TOP TIP
No matter how good a house sitter you are, there will probably come a time where you think you have lost a dog.
This is not so much of an issue with the dogs that are not allowed off leash. But you will find a lot of owners encourage you to take their dogs off leash if it is what they would usually do. I would say the best thing to do in this case is wait! Wait a couple of days & give the dog some time to get to know you & to trust you. Ultimately you need to give the dog some time to realise yours is the hand that feeds it. Once a bond has been established then you can begin to let the dog off lead if told it is okay to do so by the owner. But only do so if you are comfortable with it. Find an enclosed dog park & take treats.
Of course there is always one though. No matter how careful you are. No matter how many treats you bring.
This Husky was our Houdini.
Because of its bread & because it lived in a small house in the city we were strongly advised to take this dog off the lead, so she could get the exercise she needed. Even in an enclosed park she found a way though & she would certainly not come back on command or for any treat offered. One day this dog just decided to go darting up a cliff face on Sydney's Harbour. It was not a good day.
After a good 45 minutes in pursuit we finally recaptured the Husky once more. She was then given one last chance a week later (after we believed an even stronger bond had been establish). This was at another enclosed dog park which backed on to a tiny little beach…… On this occasion she decided to start swimming out to sea / out into Sydney's busy working harbour.
She stayed safely secured on the lead after this incident.
Once you have been to the drive in it will probably become the only cinema you want to visit ever again. It is definitely the right way to see a movie.
Sydney's Skyline Drive In is not in Balmain… Not even close. But we did visit it a lot while staying there, so I thought I would share it with you here anyways.
Sydney's drive in is in Blacktown…
Yes, a little bit of a drive away, but totally worth it. It looks far on the map but yes it is still in Sydney. So make the trip out west & see a movie the way it was meant to be seen. Along with a classic American Diner serving all the popcorn, shakes & hotdogs you could possibly desire, its a perfect friday night (if you you fancy escaping the city chaos for a few hours).
For me this city has the good, the bad, (the beautiful) & the ugly.
Its got plenty going on, its got the beaches, the views, as well as the pollution & the price tag.
Sydney certainly has both ends of the spectrum. Here are some photos of the higher end of that spectrum.
It's one great big expensive city.
I'm sure you knew that already but yeah ....It's pretty big & it's pretty expensive. What you might not know already is that Sydney has the same population as the whole of Norway..... & like the whole of Norway it is (as I said) expensive….
I was chatting with an Uber driver the other day & he was saying how sad it is how the city is fast becoming like Dubai... a place for only the rich and those who serve the rich. Soon he said there will be no room for the in between..... I see his point & I agree it is sad.
Anyway in the meantime this is where me & mine are living. & where we are trying to survive. So how do you survive in this expensive city with no money and no place to live? To be honest with you I don't know how everyone else out here does it, but for us the way we have found to get by has been house sitting.
HOUSE SITTING
Basically you live in someone's house & care for their home & their dog for the duration of their (the owners) holiday, however long that may be.
We knew before we got to Sydney it was going to be difficult to start from scratch in one of the most expensive cities in the world. We decided to try some house sitting while looking for a 'permanent' place to start renting.
As the costs of moving across the world began to have a greater & greater effect on our bank balances, we realised the need to continue house sitting was necessary in order for us to continue living & working here. & so house sitting has become a very big part of our day to day lives in Australia.
There is a lot of moving, uncertainty & waiting involved, as you try to confirm whether or not you have a place to live the following week. But when you do get a house sit (especially if it lasts a good amount of time) its all worth it. You get a place to live, rent free & you get it all to yourselves.
(With the exception of a furry companion to look after. Dogs only in our case…. lets face it, cats are evil).
To start house sitting you just need to join some online websites and start applying, soon you will also be able to get jobs through word of mouth as well. When you first join the websites you will have to pay an upfront joining fee, this can vary from around 20 AUD to around 80 AUD. But once you have paid this you become a member for at least 12 months and there is no limit on how many house sits you can do. Just choose your websites wisely as there are loads! Once you have picked one or two you only need to get one house sitting job to get that money back. Even if it is only one week long, you still will have paid less then you would have on a weeks rent. Eventually once you have some experience you can also get paid for house sitting as well as living rent free. Ultimately you just need to get one to save some dolla & the more you do the more you save ….& potentially even earn.
So far we have been from Sydney's North Shore to Erskineville, Vaucluse, Caringbah South & Balmain.
We have been very lucky with our house sits & have stayed in some amazing places. But it is very odd when you are living in a beautiful, sometimes luxury house & yet you cant afford to buy dinner. My point here is its not all about looks, it is also about whats on the inside… Like the inside of a fridge being very empty and you don't have enough money to stock it up.
$$$
I think our lowest point was maybe when we were declined at a McDonald's Drive Thru…. While on our way back to the dingy little garage we were living in… We couldn't afford anywhere else.
Thankfully we have come a bit of a way since then, but I think you can tell by now that it wasn't easy in the beginning, or (for what felt like) a long time after the beginning. Even with the money we were saving on rent we could barely afford the nights/weeks in between our next & last house sit. We constantly moved around, trying to find the next cheap place to stay & wait for the date of our next one to begin. We found ourselves somewhat stuck between a travelers life & an everyday working city life. Balancing the constant change in location & living out a suitcase while working a full time regular job.
This temporary living was difficult to find. Hostels are popular here, they are where all the traveler's want to stay (rather than needing to) for the social side. Hostels are the way all the holiday working visa holders meet others to go & do their farm work with, meaning they can enjoy Australia for another year. This popularity results in the nightly rate being much higher than you would expect of a hostel. Airbnbs (shared) are cheaper but be wary of shared Airbnbs! They often consist of a damp & dirty room in your classic student flat, which was maybe cleaned 4 or 5 years ago..... Cockroaches, dirty bed sheets & all of the absent owners belongings. To any of you lovely readers who do happen to be Airbnb hosts when someone is paying for a room (whether it is cheap or not) maybe move some of your shit out so the guests can actually open their suitcases.
Please & thanks, much love. x
Anyway that''s us & now back to Sydney…
VIVID
Sydney's festival of lights.
It's definitely worth seeing but the problem is there are just so many people flocking to see the lights around you its hard to fully appreciate the experience. Of course this city's famous festival was always going to be busy, but with the extraordinary amount of tourists on top of the ample amount of locals the crowds reach a whole new level. This is not to say the sight of the Sydney Opera House & the Harbour Bridge all lite up does not significantly make up for the somewhat claustrophobic atmosphere.
This beautiful and somewhat eery sight can be found on the Bondi to Coogee Coastal Walk. While I personally have never liked the idea of being buried I can understand why people would choose this as their final resting place. All I can think though is how expensive it must be for the families to get their loved ones a grave in here. I do not believe in spirits or ghost or anything like that, but I do believe in respect and I found it truly quite hurtful when I saw a grown man ahead of us on the trail take a piss amongst the graves. I guess no amount of money or peace can keep you safe from human beings cruel ignorance.
Other than this the coastal walk was a perfect day out and whether you run it or walk it I would recommend you do it.
The photograph below was taken at Continental Deli Bar Bistro, a perfect little gem of a place that we found in Newtown on my birthday.
While somewhat on the $$$ side (for us anyway) it is still a fair price in the end, as this place gives you what you pay for and more! The staff were amazing and certainly knew what they were doing & the food and drinks were unreal. I'd go back tonight if I had the dolla to spare. I've linked their website so just click the button below & see why I fell in love with this place...... or just take a walk to Australia Street and treat yourself. (If you can).
There is also now a Continental CBD on Philip St (but I like the Newtown one best).
*Warning - Vegans I'm sorry but food wise this place probably isn't for you... My advise would be to have dinner elsewhere and just go for the cocktails after.
SYDNEY MARKETS
Another must in Sydney is the Saturday Glebe Market.
This is the best market there is in Sydney, with much more range than either Bondi or Bondi Junctions markets.
It goes from 10am until 4pm & you cannot leave without finding something you will want to buy.
This market has a little bit of everything. Whatever you are after, you will find it here, priced somewhere between 2 dollars & 80. Markets like these are definitely the way forward for a world that is becoming ever more consumed in it's own mass production.
Recycle people. Whether it is trash or treasure!
I ended up leaving with this beautiful mother of pearl necklace below. I did spend a little more then I was planning to here, ($65 AUD to be exact). But for this hand made and unique piece of jewellry it was totally worth it. Karin (the designer/hand crafter) has a stall at Bondi Junction, Glebe & Bondi Markets every week as well as making pieces to order & selling them online.
You can click on the button below if you want to see more of her beautiful pieces.
There are maybe four things to do in Canberra, that makes it worth a visit before you should get back in the car and watch it disappear in your rear view mirror. I would say two days is ample amount of time to spend in this ghost "city". For me & mine we only needed one day, but then I guess you could say we didn't do it justice or we didn't give it a fair chance. Thats fine you can say that, but I doubt you will. Don't get me wrong I'm not saying it isn't worth a one off visit ..... I'm just saying you don't need long.
The first and most impressive thing to do was the Australian War Museum. This museum/memorial beautifully commemorates those who fought and died for both Australia and New Zealand. It is full on, emotionally hard hitting and incredibly important to see, as it will give you an understand of this country's past and therefore its present.
The Parliament ......as someone who knows nothing about Australian politics or Australian law, other than the fact they finally voted yes to gay marriage last year. Which is an excellent step forward for the country, although why they had to hold a vote on it I'm not quite sure. It really shouldn't have been up for debate. Anyway I was hoping to maybe gain an understanding into Australian law and politics, I did not ......I had a wonder around the building, saw some portraits of previous Prime Minsters and saw the view of Anzac Parade from the roof.
Next is the National Gallery of Australia..... I may have missed this one, but I've heard it is one of the only other things to do in Canberra. I'm sure it is worth the visit but you will just have to google that one.
And lastly I guess just grab a coffee or take a picnic down to the artificial Lake Burley Griffin and enjoy the sunshine. For the more active among you, you can hire out canoes, paddle boards or even sail boats and explore the man made lake that way.
And that Is it, you can now say you have done Canberra.
Whatever time of year and whatever the weather The Great Ocean Road will always be impressive. You could spend a week visiting all the stops along the way or you could do what we did & cram it into a two day trip. On the days we were there (as you can see from the photographs) we did not see a pretty sunset and a calm sea, instead we saw a stormy ocean and a threatening sky. It proved to be equally as beautiful in these harsher conditions.
Melbourne - My first & favourite experience of Australia (so far).
A place that functions around coffee ....& maybe also the AFL. But mostly around coffee.
THE MCG
You cannot go to Melbourne and not visit the MCG. Victoria is the birthplace of the AFL and watching a game at 'The G' has an atmosphere so electric even the least sports oriented person could not help but enjoy it. The stadium seats around 100,000 and everyone is there simply to have fun. Of course there is still a lot of rivalry and even a bit of scraps among the players. But the main difference between football here & football in the UK is the typical sporting aggressiveness is encouraged (within reason) on the pitch, & therefore because there is no real aggressiveness in the crowd of spectators.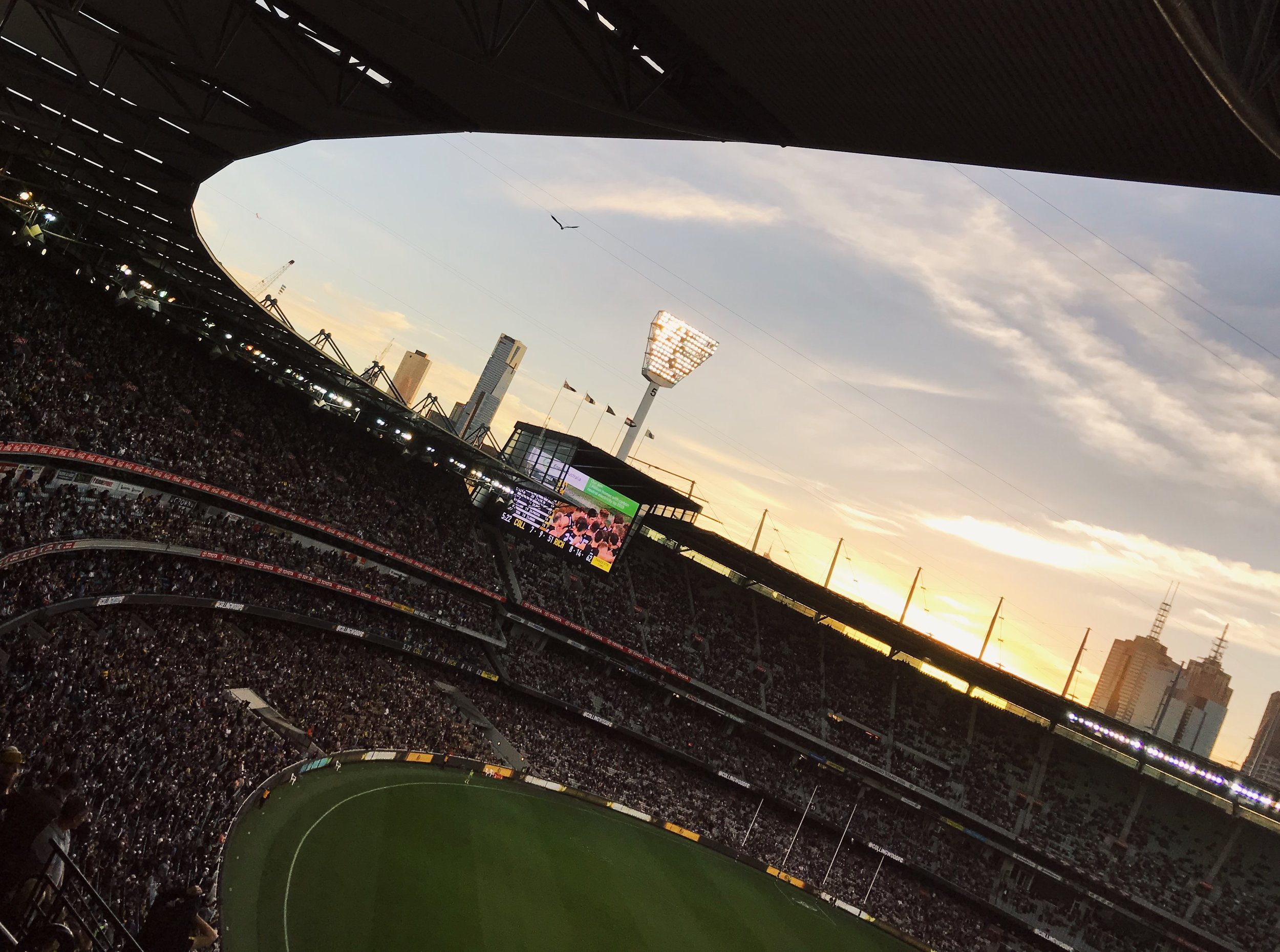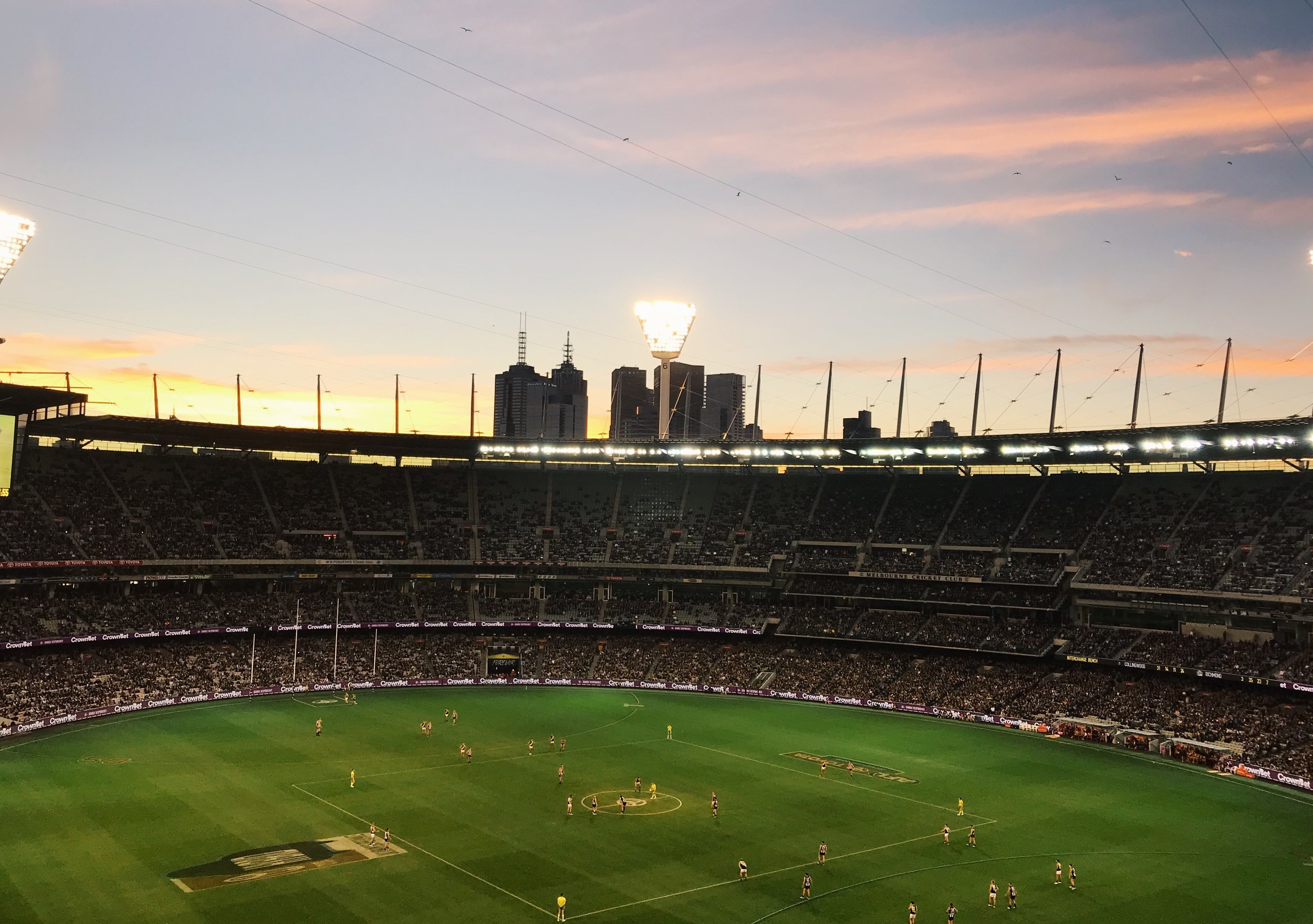 The Shrine of Remembrance.
Set right in the centre of Melbourne. It is definitely worth paying your respects to this beautiful & significant sight. Though you probably don't need to visit both this & The Australian War Museum in Canberra, they are both equally as impressive & informative. Make sure you see one, if not the other.
Journey to the final pic…..
This is what most of the pictures I take of him end up looking like….
Anyway I think you get that Melbourne was dreamy.
Lauren Macrae
Represented by
Brigitte O'Brien
+61 416 116 283