MY TRAVEL
Welcome to my travels so far.
Starting with my current location feel free to take a lil scroll & see all my journeys from new to old.
Sydney is where I currently call home... kinda ..... home will always be Scotland but as of now at least (May 18 till today) this is home.
For me this city has the good, the bad, (the beautiful) and the ugly. Its got plenty going on, its got the beaches, the views, as well as the pollution and the stress.
Sydney certainly has both ends of the spectrum. Below are some photos of the higher end of that spectrum.
So Sydney is a big expensive city.
I'm sure you knew that already but yeah ....It's pretty big & it's pretty expensive. What you might not know already is that Sydney has the same population as the whole of Norway..... & like the whole of Norway it is (as I said) expensive…. I was chatting with an Uber driver the other day, he was saying how sad it is how this city is fast becoming like Dubai... a city for only the rich and those who serve the rich. Soon he said there will be no room for the in between..... I see his point & it is sad.
Anyway in the meantime this is where me & mine are living. & where we are trying to survive.
So how do you survive in this expensive city with no money and no place to live? To be honest with you I don't know how everyone out there does it but for us the only way we have found to survive here is house sitting.
We knew before we got to this city it was going to be difficult to start from scratch in the most expensive place in Australia. And so we thought house sitting would be a great way to save some money while looking for a 'permanent' place to start renting. We did not realise we would absolutely have to house sit in order to stay here. Even with our house sits we could barely afford the nights/weeks in between the next and the last. We were very fortunate to find a solution in the form of a garage. This garage is where we now live in between each one of our house sitting jobs, our "home" between homes. Although when I say garage it's basically just the ground floor of a new build townhouse in Erskineville (two stops on the train from central Sydney), it also happens to be the cheapest king size on suite bedroom in Sydney (only $10 each a night).
Its luck of the draw what you get. There is a lot of moving around, uncertainty & a lot of waiting around to find out if you have a place to live the following week or not. But when you get a house sit (especially if it lasts a good amount of time) its all worth it.
You get a place to yourselves. Free of charge. & you get some fur babies to look after. As long as it isn't cats its good enough for me. In some cases you can actually earn money as well but for this you will need some experience & references first. To start house sitting you just need to join some online websites and start applying. When you first join the websites you will have to pay an upfront joining fee, this can vary from around 20 AUD to around 80 AUD. But once you have paid this you become a member for at least 12 months and there is no limit on how many house sits you can do. Just choose your websites wisely as there are loads! Once you have picked one or two you only need to get one house sitting job to get that money back. Even if it is only one week long, you still will have paid less then you would have on a weeks rent.
Ultimately you just need to get one to save some dolla and the more you do the more you save. So far we have been from Sydney's North Shore to Erskineville, Vaucluse, Caringbah South & Balmain.
We have been very lucky with our house sits & have stayed in some amazing places. But it is very odd when you are living in a beautiful, sometimes luxury house and yet cant afford to buy dinner. My point here is its not all about looks, it is also about whats on the inside …. Like the inside of a fridge being very empty and you don't have enough money to stock it up.
Before we found our garage solution we would go from place to place, constantly moving around after each house sit. We would then again have to find another cheap place to stay & wait for the date of our next house sit to begin. I mentioned earlier the struggle to find & pay for this temporary accommodation. Hostels are popular here, they are where all the traveler's want to stay (not need to). Therefore the nightly rate is higher here than you would expect of a hostel. Airbnbs (shared) are cheaper but be wary of shared Airbnbs! Our experiences here have been very different from the lovely apartment pictures you see above. There have been times when we have stayed in places much worse than our cosy little garage. A shitty room in your classic student flat which was maybe cleaned 4 or 5 years ago..... A damp room with mould, cockroaches, dirty bed sheets & all of the absent owners belongings. To any of you readers who are Airbnb hosts when someone is paying for a room maybe move some of your shit out so the guests can actually open their suitcases. Please & thanks, much love. x
Anyway enough of us & back to Sydney.
VIVID
Sydney's festival of lights.
It's definitely worth seeing but the problem is there are just so many people flocking to see the lights around you its hard to fully appreciate the experience. Of course this city's famous festival was always going to be busy, but with the extraordinary amount of tourists on top of the ample amount of locals the crowds reach a whole new level. This is not to say the sight of the Sydney Opera House & the Harbour Bridge all lite up does not significantly make up for the somewhat claustrophobic atmosphere.
This beautiful and somewhat eery sight can be found on the Bondi to Coogee Coastal Walk. While I personally have never liked the idea of being buried I can understand why people would choose this as their final resting place. All I can think though is how expensive it must be for the families to get their loved ones a grave in here. I do not believe in spirits or ghost or anything like that, but I do believe in respect and I found it truly quite hurtful when I saw a grown man ahead of us on the trail take a piss amongst the graves. I guess no amount of money or peace can keep you safe from human beings cruel ignorance.
Other than this the coastal walk was a perfect day out and whether you run it or walk it I would recommend you do it.
The photograph below was taken at Continental Deli Bar Bistro, a perfect little gem of a place that we found in Newtown on my birthday.
While somewhat on the $$$ side (for us anyway) it is still a fair price in the end, as this place gives you what you pay for and more! The staff were amazing and certainly knew what they were doing & the food and drinks were unreal. I'd go back tonight if I had the dolla to spare. I've linked their website so just click the button below & see why I fell in love with this place...... or just take a walk to Australia Street and treat yourself. (If you can).
*Warning - Vegans I'm sorry but food wise this place probably isn't for you... My advise would be to have dinner elsewhere and just go for the cocktails after.
Another must in Sydney is the Saturday Glebe Market.
This is the best market there is in Sydney, with much more range than either Bondi or Bondi Junctions markets.
It goes from 10am until 4pm & you cannot leave without finding something you will want to buy.
This market has a little bit of everything. Whatever you are after, you will find it here, priced somewhere between 2 dollars & 80. Markets like these are definitely the way forward for a world that is becoming ever more consumed in it's own mass production.
Recycle people. Whether it is trash or treasure!
I ended up leaving with this beautiful mother of pearl necklace below. I did spend a little more then I was planning to here, ($65 AUD to be exact). But for this hand made and unique piece of jewellry it was totally worth it. Karin (the designer/hand crafter) has a stall at Bondi Junction, Glebe & Bondi Markets every week as well as making pieces to order & selling them online.
You can click on the button below if you want to see more of her beautiful pieces.
The first and most impressive thing to do was the Australian War Museum. This museum/memorial beautifully commemorates those who fought and died for both Australia and New Zealand. It is full on, emotionally hard hitting and incredibly important to see, as it will give you an understand of this country's past and therefore its present.
The Parliament ......as someone who knows nothing about Australian politics or Australian law, other than the fact they finally voted yes to gay marriage last year. Which is an excellent step forward for the country, although why they had to hold a vote on it I'm not quite sure. It really shouldn't have been up for debate. Anyway I was hoping to maybe gain an understanding into Australian law and politics, I did not ......I had a wonder around the building, saw some portraits of previous Prime Minsters and saw the view of Anzac Parade from the roof.
Next is the National Gallery of Australia..... I may have missed this one, but I've heard it is one of the only other things to do in Canberra. I'm sure it is worth the visit but you will just have to google that one.
And lastly I guess just grab a coffee or take a picnic down to the artificial Lake Burley Griffin and enjoy the sunshine. For the more active among you, you can hire out canoes, paddle boards or even sail boats and explore the man made lake that way.
And that Is it, you can now say you have done Canberra.
Whatever time of year and whatever the weather The Great Ocean road will always be impressive. You could spend a week visiting all the stops along the way or you could do what we did & cram it into a two day trip. On the days we were there (as you can see from the photographs) we did not see a pretty sunset and a calm sea, instead we saw a stormy ocean and a threatening sky. It proved to be equally as beautiful in these harsher conditions.
Melbourne - My first & favourite experience of Australia so far.
A place that functions around coffee ....& maybe also the AFL. But mostly around coffee.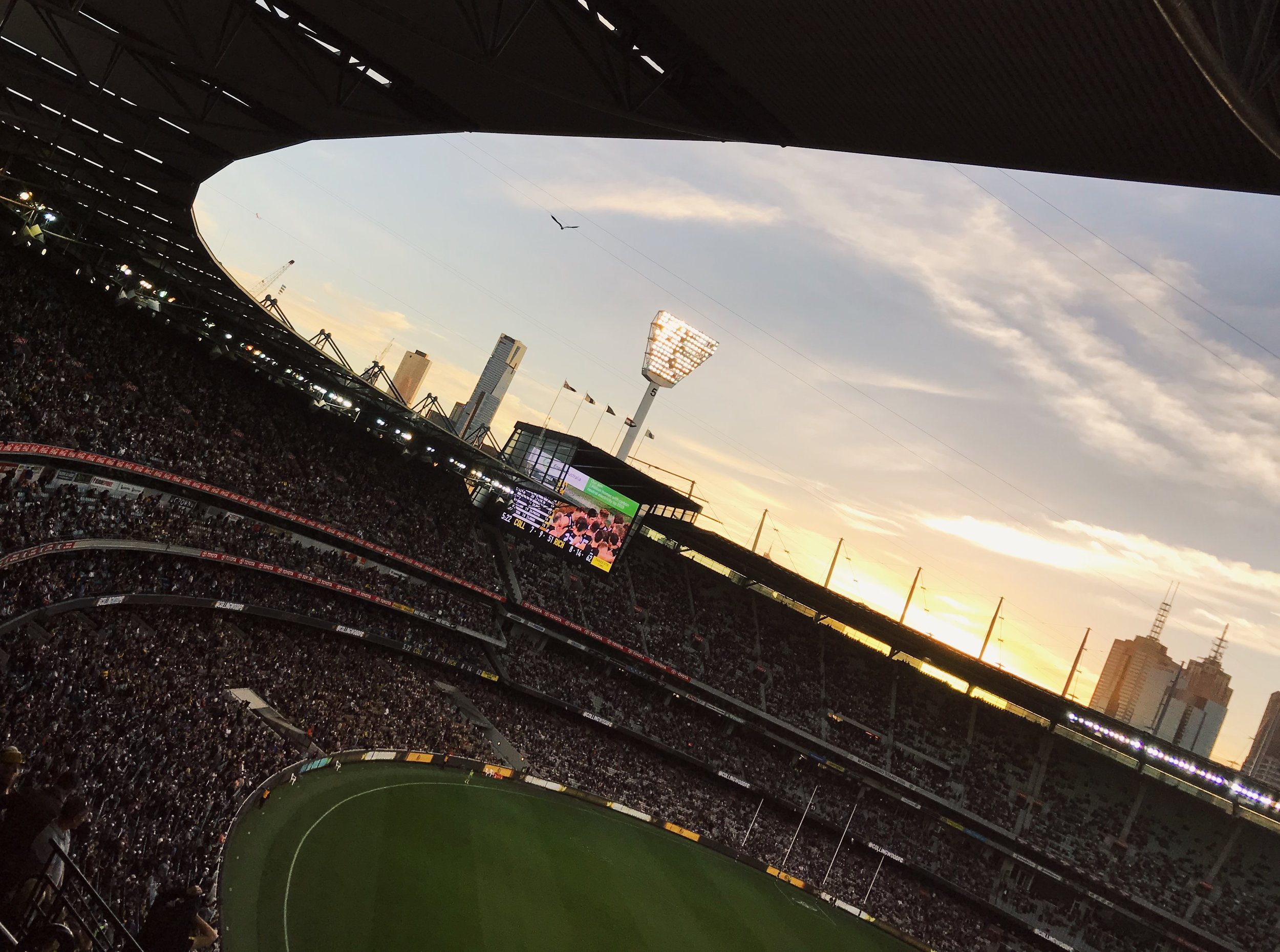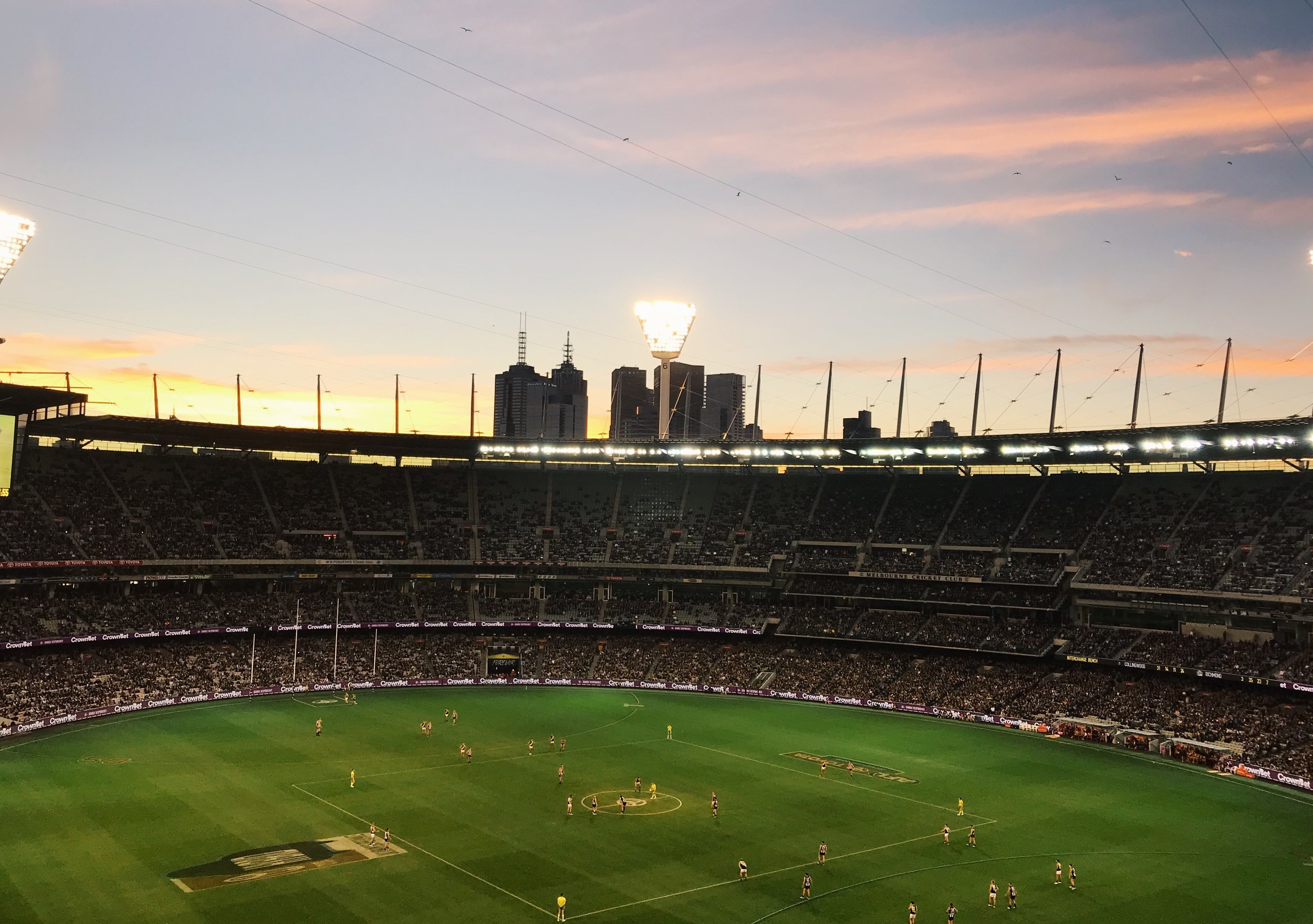 You cannot go to Melbourne and not visit the MCG. Victoria is the birthplace of the AFL and watching a game at 'The G' has an atmosphere so electric even the least sports oriented person could not help but enjoy it. The stadium seats around 100,000 and everyone is there simply to have fun. Of course there is still a lot of rivalry and even a bit of scraps among the players. But the main difference between football here and football in the UK is the typical sporting aggressiveness is encouraged (within reason) on the pitch, and because of this there is nothing like that in the crowd of spectators.
If you are still unconvinced just go for a beer and a pie.
Above is a picture taken from The Shrine of Remembrance, set right in the centre of Melbourne. It is definitely worth paying your respects to this beautiful and special sight. Though you probably don't need to visit both this and The Australian War Museum in Canberra, they are both equally as impressive and informative. Make sure you see one, if not the other.
Welcome to the first metropolis of the world, otherwise known as the eternal city.
This is a city I could have stayed in a lot longer than my bank account would ever allow. With over 500 Ancient Roman structures still standing there is something magnificent around every street corner. The city screams with the grand history for which it is famous for and it certainly does not disappoint. It is incredible to see a city so filled with the past but yet so modern.
We stayed just south of Vatican City & right by the Tiber River on Via della Lungara. The location was perfect for walking everywhere, though we did do the classic tourist hop on hop off bus on the first day to get our bearings which turned out to be easier than we expected.
When in Rome...
La Dolce Vita
In between wondering the amazing streets & going from one grand historical site to another it's all about the food & the drink (whether its coffee or cocktails).
La Prosciutteria Trastevere - Cantina dei Papi
This was our favorite little restaurant & a local gem. In no way touristy, it was simple, unspoiled & Italian. Everything we wanted. (You can tell which restaurants the locals favour as these are the places still alive at 10pm / 11pm at night. Filled with the Italians eating their dinner long after all the tourists have moved on to the bars or gone back to their hotel rooms). We walked passed this tiny little whole in the wall on our first night & headed straight back there the following evening. It was hard to resist going back every night after.
Freni e Frizioni
Another must when in Rome. After you have visited La Prosciutteria your next stop has to be Freni e Frizioni which is literally just around the corner, so you can get the best of both worlds in one night. The cocktail list consists of classic movie titles, each for 10 euros & with this you get access to a free buffet which lasts from 6.30pm until 10pm every night. Have a second dinner if you have any space left, or save some euros & get yourself a free dinner with the one 10 euro cocktail. But if you do, just make sure you still visit Prosciutteria Trastevere another night, I cant recommend it enough.
Thailand | Laos | Vietnam | Bali
In July 2016 I traveled with a friend through Thailand, Vietnam, Laos and Bali.
Below is the link to the youtube videos Part 1 and Part 2 of all our many adventures.
Bali & Vietnam were my absolute favourites of this trip. We spent a whole month going around Bali, which was just enough time, I would say you need just as much time for Vietnam maybe even longer if you can take the chaos (I promise its worth it). And Hoi An is the peace in it all... an absolute must. If in Bali do not miss Uluwatu. It is the ultimate beach Bali experience. Maybe avoid Dreamland beach, although dreamy its a small tourist trap with a dangerous rip. Bingin Beach is much more dreamy and much less dangerous.
Starting with the Thai islands Koh Samui, Koh Phangan, and Koh Tao (my favourite island) we then made our way up to Bangkok. A Painful bus journey ....but you just got to embrace the suck here. We spent two full days & three nights in Bangkok which was more than enough time. I would say you only need two nights before you move on to your next stop. We headed straight up to Chiang Mai, a much calmer city after Bangkok. If you are doing the same make sure you book your way out of Bangkok as soon as you get there, as the sleeper train goes fast! And believe me you want the sleeper train. Unless you got dolla and can just jump on a plane. When booking the train go straight to the station! Don't get lured into all the little travel shops.
I spent four summer seasons living in Greece, in a small town called Sivota, Thesprotia.
It is a short drive away from Igoumenitsa & Parga & just a short ferry ride away from Corfu or Paxos & Anti paxos. Situated amongst the Ionian Islands Sivota is still undestroyed by tourism and the outer world. Though I was living and working there through a British holiday resort company (Neilson Active Holidays) it has somehow still managed to maintain its identity as a true authentic Greek village... Well it had last time I was there anyway, which was in 2017 so I am hoping it remains true to my words.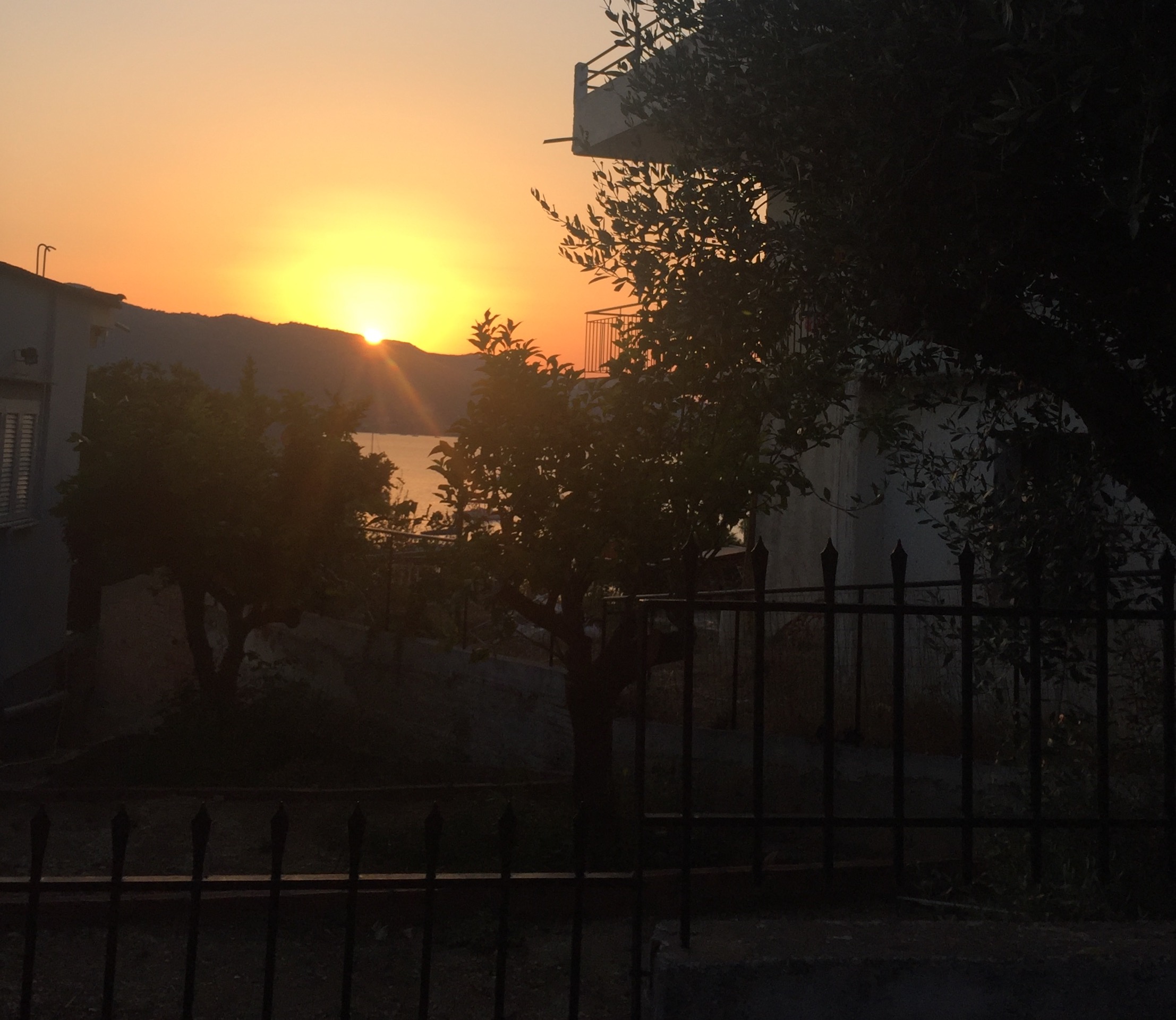 Below is a lil movie myself & a friend made to show some of our experiences from the days we lived & worked in Greece as a Waterski & Wakeboard Instructors & Ski Boat Drivers.
It is no Blue Planet and is strongly lacking in a David Attenbourgh vibe...
But give it a go if you enjoy being by the seaside.
When I visited Nice I had not yet visited Italy, but I had been to France many times before. Now that I have been to Italy as well, I see this city as the perfect combination & meeting of the two countries.
I fell in love with France at a young age as for most of my early years this was the only other country I went to when I would step out of Scotland.
Admittedly I only spent a few days in Nice but it was enough to make me fall in love with France all over again
(after years of separation, where I was instead living in & enjoy Greece.)
Anyway I came back raving about the place & about how I was moving there as soon as I could.
I haven't quite made it back there yet.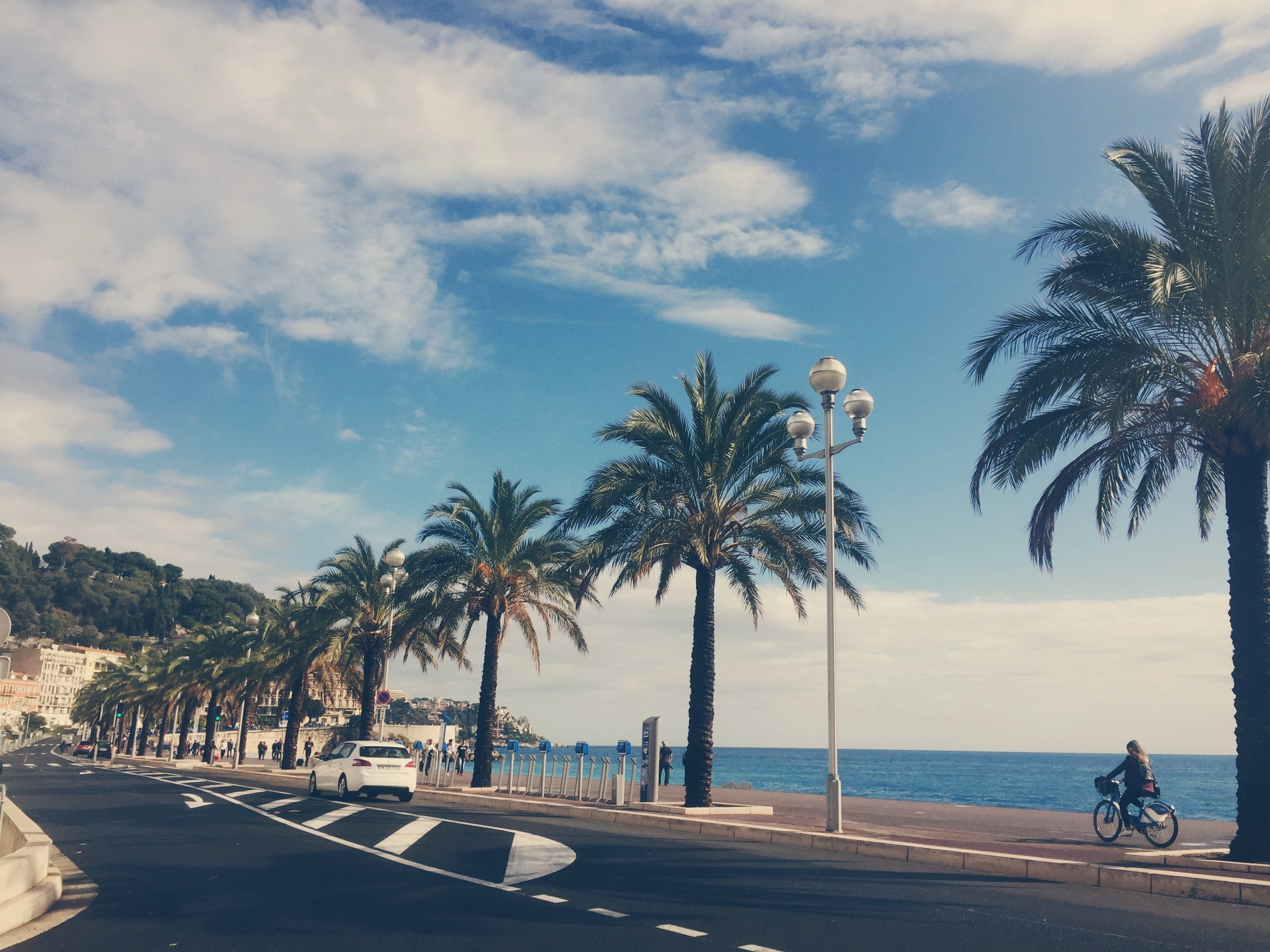 Lauren Macrae
Represented by
Brigitte O'Brien
+61 416 116 283
info@maxtalentmanagement.com.au
'The Paladar' cnr Fish Lane and Merivale St, South Brisbane, QLD, 4101